SBCC Builds and Strengthens Roster With Many New Additions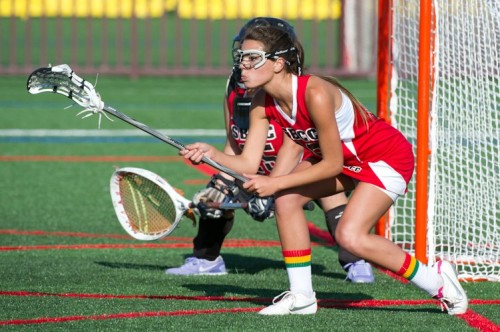 Santa Barbara, CA - It's still early and there's room for more but eighteen incoming students have declared they are turning out for the SBCC Women's Lacrosse Club for the 2013-14 academic year. It is a record number of new female students interested in becoming part of the team. Fourteen of the newcomers have previous lacrosse experience and four of them are novices. The club embraces beginner players and aims at having six or more per year join the program so more spots remain open.

The Vaqueros women's lacrosse club is coming off a banner year in which they advanced to the Western Women's Lacrosse League (WWLL) Division II championship game this past April. SBCC were also selected for the national post-season scene and played in the U.S. Lacrosse WCLA National Championsihp Tournament in May.

SBCC coaches Eric Valois and Jacklyn Taylor return for a second year and the team will continue to enjoy the use of the fine turf facilities at UCSB for practices and games. The Vaqueros finished ranked 19th nationally under Valois and Taylor, who are also assistant coaches at UCSB. The Vaqueros were ranked as high as eleventh (March 20th poll) during the regular season where they had an 8-6 record playing six nationally ranked opponents. It seems fitting for the #1 ranked community college in the United States to have a nationally ranked women's lacrosse team since women's lacrosse is the highest rated sport academically at the university level.
Additional players are welcome to join, no experience necessary but, of course, welcome! Go to the Team Member Info page on this website to find out more about joining the club or to get contact information for coaches Eric Valois and Jacklyn Taylor. Fall lacrosse practice, non-traditional season, started Thursday, August 29th, but it's still possible to join the club.

SBCC Women's Lacrosse Newcomers

| | | | | |
| --- | --- | --- | --- | --- |
| Name | Hometown | State | Last School | Position |
| Chloe Behm | Minneapolis | MN | Southwest / Minnesota | Attack |
| Elise Bonfiglio | Petaluma | CA | Petaluma | Novice |
| Carolina Bowles | Encino | CA | Chaminade | Defense |
| Lily Brand | Carpinteria | CA | Midland / Ursinus | Midfield |
| Hannah Colombo | Berkeley | CA | Berkeley | Defense |
| Kaylee Costello | Shutesbury | MA | Amherst | Attack |
| Karen De Luna | Los Angeles | CA | Thomas Jefferson | Novice |
| Staci Fung | Palo Alto | CA | Palo Alto | Novice |
| Amanda Gunnell | Kaysville | UT | Davis | Defense |
| Jennifer Haro | Lake Balboa | CA | Birminghan | Defense |
| Alexis Maddox | Palmyra | VA | Fluvanna | Defense |
| Sarah Martin | Lakewood | CO | Green Mountatin | Defense |
| Haley Moulton | Freeland | MI | Midland | Midfield |
| Isabel Muller | Northampton | MA | Northampton | Attack |
| April Munoz | Santa Barbara | CA | Vista | Novice |
| Alysa Navarro | Encinitas | CA | La Costa Canyon | Attack |
| Jessica Tung | Taichung City | Taiwan | Beaverton | Defense |
| Josephine Walter | Skillman | NJ | Montgomery | Attack |
Copyright 2023 - Santa Barbara City College Lacrosse | Website by LaxTeams.net