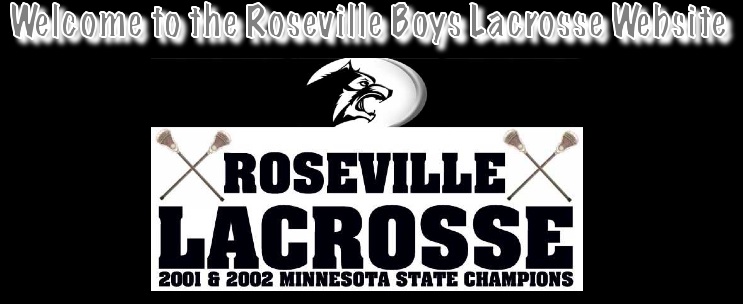 Roseville Area HS Boys Lacrosse

Home of the Raiders
updated Saturday, March 23rd

The 2017 lacrosse season is just around the corner. If you are new to Roseville High School Lacrosse please fill out our contact form linked on the left side of this page in the Registration Information section. Tryouts start on Monday, April 3rd.

Here are some notes from the player/parent meeting on Tuesday February 21st. Booster Club fees for this year are $250/player. You can offset this fee by selling raffle tickets for the Ballards fundraiser. All players will get 25 - $10 tickets to sell. If you sell them all, your booster club fee is paid. If you don't, you pay the difference.

There are multiple Sign Up Genius opportunities on the Booster Club page of this website as well as linked here.

Sign up Genius for Carbo Loads

Sign up Genius for other volunteer opportunities

We will be getting new helmets for JV and Varisty. Your son can wear a helmet at no cost during the season or you can choose to purchase one to have for your own use outside of high school lacrosse season as well. They will be about $180. More information will be available after tryouts.

Here is a link to order some awesome Roseville Lacrosse required and optional apparel. The online store is currently closed. Buy Here!

Captain's practices are Sundays from 7pm-9pm and Wednesdays from 3:30-4:30pm from now until March 1st. Starting on Monday, March 6th we will be adding a Monday practice slot from 3:30-4:30 as well...March 6th, 13th, 20th and 27th.

Practices are located at the new Loons training facility here in Roseville. The address is 1633 Terrace Drive Roseville, MN. The fee for each plaer is $20, this fee allows the player to come to any/all practices. Please pay captain Kyle Fuller.

---

The Varsity and JV Team Rosters for the 2017 teams will be posted after try outs in the spring on MSHSL RAHS Boys Lacrosse Full Roster site.

---

Official Suburban East Conference calendar for Roseville Boys Lacrosse Teams Events and Locations (also a configurable SEC RAHS calendar.)


This site's Event Calendar will try to be kept up-to-date with changes as they are announced.
(Note there are different views, and events can be clicked on for more information.)

---

Thank you to Mark Bakken for these great action shots! If more people will please share a few of thier photos, we will try to post a few for each game on this site.

---

---

Live scoring updates for Varsity games will be on the new Twitter account @Rosevillelax

---

Wednesday, April 5th from 5-9pm at the Chipotle in Rosedale Mall is the team fundraiser. Please mention Roseville High School lacrosse when you order/pay and a percentage of your money spent will go directly to the Roseville Lacrosse Booster Club.
Copyright 2017 - Roseville Lacrosse | Website by LaxTeams.net