Vaqueros Improve To 8-0 With 17-4 Win Over Fullerton College
Santa Barbara, CA - An 8-0 first quarter at home in La Playa Stadium was the fast start SBCC wanted hosting visiting Fullerton Community College. The Vaqueros won easily to improve to 8-0 overall. The Hornets are the intercollegiate varsity team at Fullerton but it didn't phase the club from SBCC. Both programs use the thirty-five institution Western Women's Lacrosse League as their path to competition. The Vaqueros are now 2-0 against Fullerton this season.

It didn't take long to score. Eighteen seconds into the game sophomore Sabrina Forbes notched the first tally on an entry pass from freshman Kiara Kofoed (Orinda, CA). Forbes shot 100% on the evening going 5 for 5 on shooting. Forbes, a midfielder, also had 2 assists, 5 ground balls, 5 draw controls and 4 caused turnovers offset by no turnovers of her own to be a whopping +21 for her team.

Kofoed was 4 for 4 on shooting for her own 100% game and freshman Jordan Muetscheller had a career high as a Vaquero scoring 5 goals on 6 shots. Combined the three players were 14 for 15 and shot 93.3%. Coach Paul Ramsey was pleased with the efficiency on their shooting and the overall good play of the team.
"It's not just about scoring but it is about finishing when you have that good opportunity," said Ramsey. "Sometimes attackers get wrapped up in having to score or wanting to score but that's not the right mindset and it gets forced."
Ramsey continued, "If you're in the right place at the right time the ball will find you and you can do something for your team and the ball certainly found those three in the right places tonight."
Sophomore goalie Tatum Davis (Redondo, CA) had six saves on ten shots against her to save 60%. The entire defense played well and held a Fullerton team that had outscored their previous three opponents 50-18 to only four goals. The Vaqueros played a tight marking defense all over the field and caused a total of 21 Fullerton turnovers. When a Hornet put the ball on the ground under that pressure Alannah Cetti, Sofia Lewellyn, Taylor Ortiz and Yesenia Valdez scooped it up to get it back to the offense.
SBCC improved to 8-0 overall and is 3-0 in WWLL Central. The Vaqueros are eyeing the WWLL State Championship tournament in La Jolla on April 15th & 16th. Fullerton dropped to 3-5 overall and are 2-2 in WWLL South. SBCC plays next on April 8th at 1:00pm in a day trip to Westwood to wrap up WWLL Central D2 play at UCLA. Success there earns the Vaqueros an automatic qualifier spot in the post-season.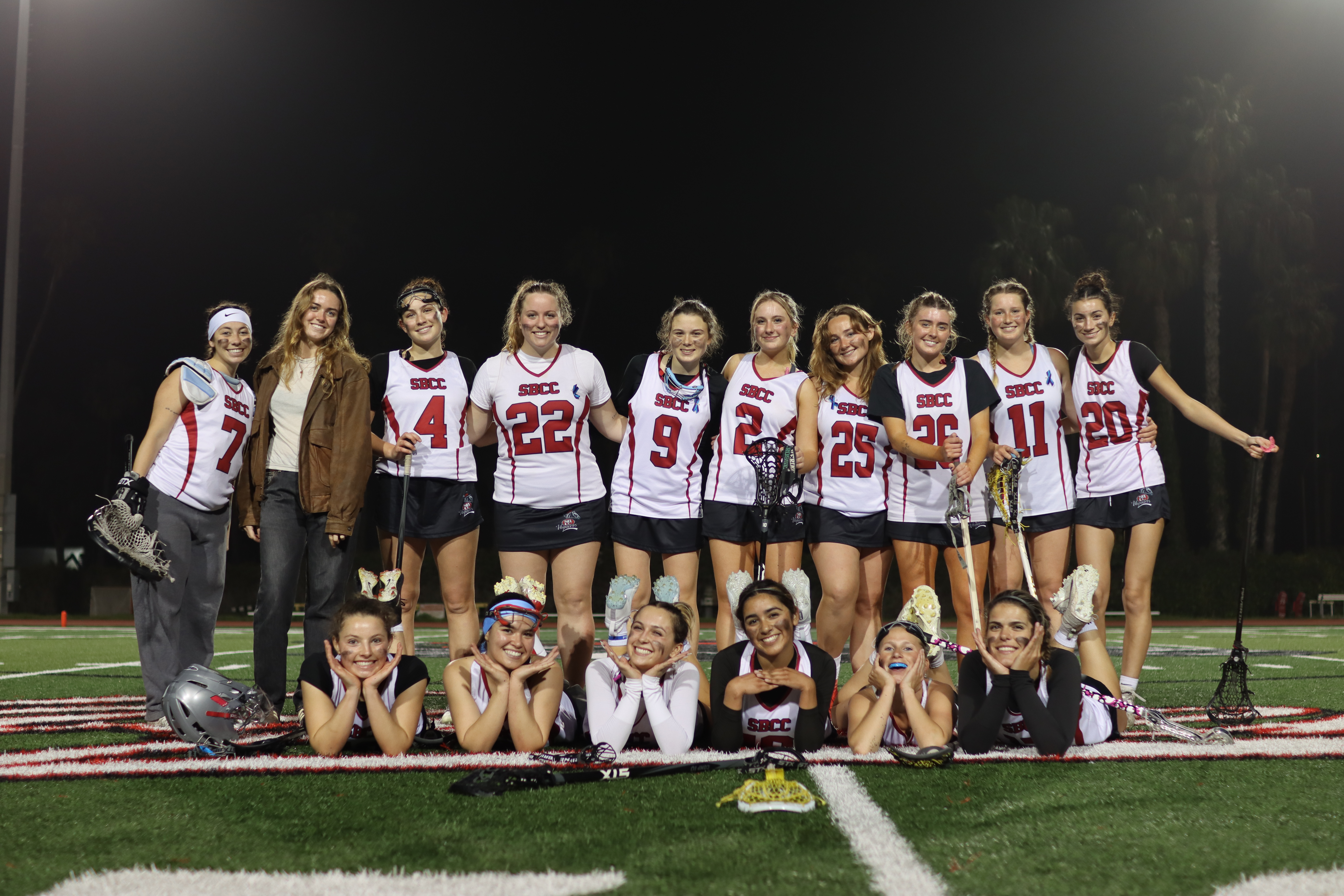 Copyright 2023 - Santa Barbara City College Lacrosse | Website by LaxTeams.net