UNLV Drops SBCC 14-7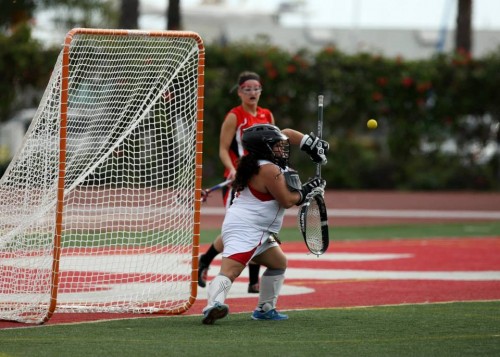 Santa Barbara, CA - The SBCC women's lacrosse club returned from spring break and had three practices to prepare for visiting UNLV. It was not enough preparation and even though SBCC enjoyed the slight advantage coming with playing at their home field at UCSB the Rebels came out on top. UNLV came into the game with some momentum having played more recently and without any rust. They lost to Cal State San Marcos by 2 goals but still had more momentum entering the WWLL Division Two Central contest with SBCC.
The Vaqueros trailed 4-9 at halftime and while they played much better in the second half it was not enough improvement and UNLV never gave SBCC any daylight. Sophomore Mari Cajandig (Davis, CA) led SBCC with 5 goals but two Rebels had 5 goals apiece. Rachel Allan (Las Vegas, NV) had 5 goals, 4 assists and Miliaikeala Heen (Las Vegas, NV) had 5 goals and 2 assists. Briki Cajandig (Davis, CA) had 14 saves for SBCC while her counterpart Brady Sheehan (Millbrook, NY) only needed 7 saves to pick up a 7 goal win.
UNLV improved to 5-4 overall and 4-0 in WWLL Central. SBCC dropped to 4-6, 1-1. The Vaqueros have two regular season games remaining and have a chance at the post-season if they can win both games.
Copyright 2023 - Santa Barbara City College Lacrosse | Website by LaxTeams.net