SBCC Splits On Final Weekend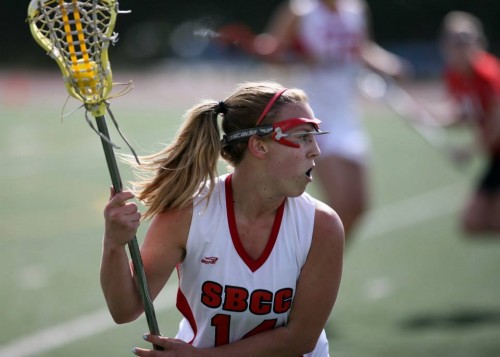 Santa Barbara, CA - The Vaqueros needed to win both games of the final weekend of the regular season to qualify for a play-off spot but split with Biola and Loyola Marymount. On Saturday SBCC won 13-6 over Biola after leading 9-4 at halftime. The Vaqueros scored first and never trailed. Sophomore Mari Cajandig (Davis, CA) led SBCC with 6 goals and 2 assists. Brooklyn Gullickson (San Diego, CA) was right behind her with 5 goals and 1 assist. Briki Cajandig (Davis, CA) had 14 saves in goal. SBCC improved to 5-6 overall and 2-1 in WWLL Central Division Two.
The Sunday contest with LMU was tighter and SBCC had a 7-6 advantage at halftime. Cajandig led all scorers again with 8 goals but the LMU defense clamped down on the rest of the Vaquero offense. Gullickson and Jessica Gastelum (San Diego, CA) contributed a goal apiece but SBCC were outscored 3-5 in the second half. Six players scored goals for the Lions and Mary-Kate Doherty (Owings Mills, MD) led LMU with 4 goals. Briki Cajandig had 19 saves for SBCC and Elise Robert (Culver City, CA) had 10 saves for the Lions. LMU improved to 5-5 overall and 3-1 in conference. The loss dropped SBCC to 5-7 overall, 2-2 in conference and made it the final game of the season for the Vaqueros.
Copyright 2023 - Santa Barbara City College Lacrosse | Website by LaxTeams.net