Vaqueros Pick Up Another Win at Northern Arizona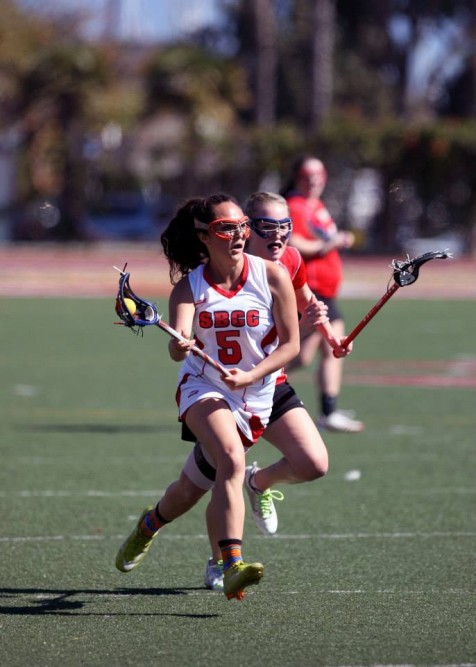 Flagstaff, AZ - Ten stalwart Vaqueros hit the road for a non-conference game at Northern Arizona University and pulled out a 13-12 win on the road during spring break. More amazing than that, only nine players suited up. Defender Jennese Bacon (Los Angeles, CA) made the trip but is not yet cleared from a separated shoulder suffered during a rugby practice so she took stats. Bacon plays two sports, as do two other season saving SBCC students Kauai Taylor (Los Angeles, CA) and Asia Quick (Upper Marlboro, MD).
When a seemingly healthy fall ball roster of 18 SBCC players turned into a team of 12 for the spring season the program went recruiting. They found Bacon, Taylor and Quick, who are full-time students at SBCC, and got them out on the field. The three were all beginners but picked up the game quickly. Couple their rookie enthusiasm with the talent and the mental toughness of the experienced players who are sticking it out and the result is a team making it happen for themselves this season. Some additional players have fallen off, resulting in a team that most often plays short, but still they refuse to throw in the towel.

This trip to Flagstaff was a make-up game for a contest with NAU orginally scheduled for February 9th at Arizona State University. That trip came during a pre-season period the Vaqueros were recruiting and reorganzing after the unexpected attrition. The NAU game was postponed and rescheduled for today. At least ten Vaqueros are happy they're persevering.
The rugby recruits and the game loving veterans are two of the stories of the season. The game today was defined by some great teamwork and two sisters. Six different players combined for eight assists while sisters Mari Cajandig (Davis, CA) and Briki Cajandig (Davis, CA) put up some big numbers. UCSB bound sophomore attacker M. Cajandig had 11 goals and 1 assist to lead all scorers. Goalie B. Cajandig had 17 saves while allowing only 12 goals. Brooklyn Gullickson (San Diego, CA) had 2 goals and 2 assists.

"Although we didn't have the numbers, we had the heart. Everyone brought their A game but what really mattered most was how we played together as one strong and motivated team," said M. Cajandig after the game.
SBCC was up 6-4 at halftime and held on with 7 more goals to the Lumberjack's 8 second half goals to not have to deal with overtime short-handed. The Vaqueros improved to 4-5 overall and remain 1-0 in WWLL Central D2. NAU dropped to 3-7 overall and is 2-2 in WWLL South D2. SBCC next plays when they host UNLV at 9:00am on Saturday, April 5th, at UCSB. Three games remaining this season for the Vaqueros are all in April and they are with three WWLL Central D2 teams. The first place team in WWLL Central D2 receives an automatic qualifier spot in the WWLL Championships April 19th - 20th at UCSB.

Copyright 2023 - Santa Barbara City College Lacrosse | Website by LaxTeams.net