Vaqueros Go 1-1 With San Marcos And Long Beach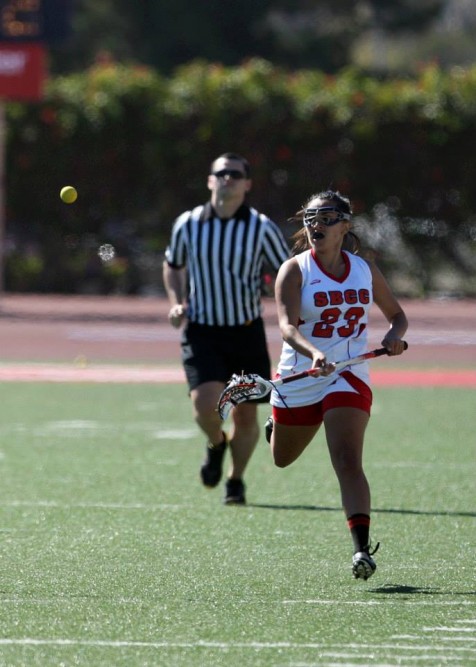 Santa Barbara, CA - The SBCC women's lacrosse club came up short in a contest with Cal State San Marcos but picked up a 1-0 forfeit win over Cal State Long Beach. The 49ers canceled their season after the schedule deadline to drop games and WWLL by-laws require a result in this situation. Both games were scheduled to be played in double header format today.

The Vaqueros remain tied for first place in WWLL Central Division Two. San Marcos is in WWLL South Division Two. The loss to San Marcos halted a two game win streak for the Vaqueros who were down 8-4 at halftime before a final score of 16-6 in favor of the Cougars. The overall series record evened to two wins apiece for each program in the four times they've met. Each team is 2-0 on the road against each other. The Vaqueros won at San Marcos in 2011 & 2013 and San Marcos won in Santa Barbara in 2012 & 2014.
Sophomore Mari Cajandig (Davis, CA) led SBCC with 5 goals and Kauai Taylor (Los Angeles, CA) scored 1 goal. Megan Guilfoyle (Lake Forest, CA) led all scorers with 7 goals and 4 assists for San Marcos. SBCC goalie Briki Cajandig (Davis, CA) had 9 saves for the Vaqueros. SBCC simultaneously dropped to 2-5, 1-0 and improved to 3-5, 1-0 while San Marcos improved to 6-2 overall.

The eye to keep on the prize for the Vaqueros is the WWLL Central title and the automatic qualifier spot in the WWLL Championships April 19th - 20th at UCSB. SBCC resumes WWLL Central DII play on April 5th and all three remaining games in the division are in Santa Barbara.

Copyright 2023 - Santa Barbara City College Lacrosse | Website by LaxTeams.net