SBCC Wins Second Straight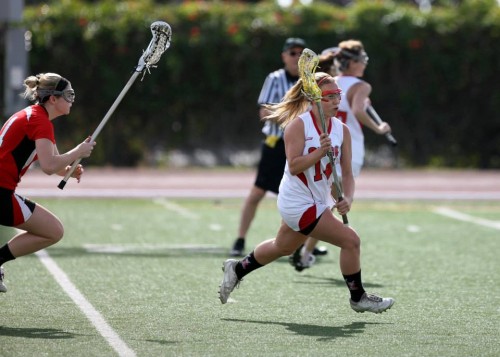 Santa Barbara, CA - The Vaqueros picked up their second straight win by defeating Cal State Fullerton 10-3 in a game played at UCSB. Originally scheduled to be played at Fullerton the Titans lost their field space and the game was moved to Santa Barbara. It was the WWLL Central Division Two opener for both teams and the win put SBCC in a tie for first place in that division. The winner of WWLL Central receives an automatic qualifer spot in the WWLL Championships April 19th - 20th at UCSB.
SBCC led 8-1 at halftime and sophomore Mari Cajandig (Davis, CA) led the Vaqueros in scoring with 7 goals and 1 assist. Brooklyn Gullickson (San Diego, CA) had 2 goals and Clair Lofthouse (Thousand Oaks, CA) scored a goal. Briki Cajandig (Davis, CA) had 12 saves against 15 shots.
SBCC improved to 2-4 overall and 1-0 in WWLL Central. Cal State Fullerton dropped to 1-3 overalll and 0-1 in WWLL Central. Up next for the Vaqueros is a non-league game with Cal State San Marcos on Saturday at 12:00pm. Fullerton is playing at the Desert Lacrosse Tournament in Las Vegas.
Copyright 2023 - Santa Barbara City College Lacrosse | Website by LaxTeams.net