SBCC Gets First Win On The Road at UC Irvine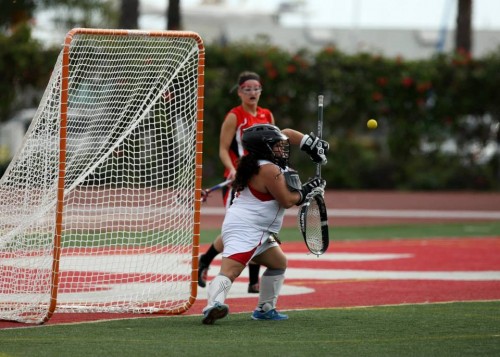 Irvine, CA - The SBCC women's lacrosse club won 13-5 at UC Irvine to get their first win of the season. The plucky Vaqueros are playing games with no reserves but led 7-2 at halftime. SBCC sophomore Mari Cajandig (Davis, CA) led all scorers with 7 goals and 2 assists. Her sister Briki Cajandig (Davis, CA) had 15 saves on 20 Anteater shots against her. SBCC got scoring from 4 other players as well. Brooklyn Gullickson (San Diego, CA), Marissa Hill (Huntington Beach, CA), Clair Lofthouse (Thousand Oaks, CA) and Kauai Taylor (Los Angeles, CA) combined for 6 goals and 1 assist.
SBCC improved to 1-4 overall while UC Irvine dropped to 3-5 overall. The Vaqueros next play tomorrow when they face Cal State Fullerton at UCSB at 1:00pm. It is the WWLL Central Division Two opener for both teams. The winner of WWLL Central receives an automatic qualifer spot in the WWLL Championships April 19th - 20th at UCSB.
Copyright 2023 - Santa Barbara City College Lacrosse | Website by LaxTeams.net