Stanford Takes Down SBCC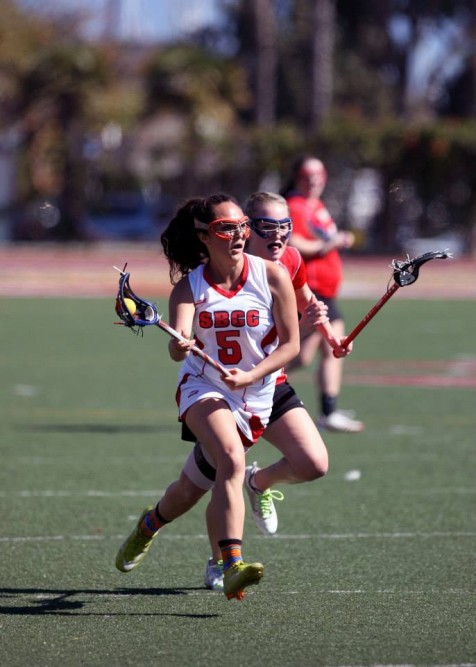 Palo Alto, CA - SBCC took to the road to play the club at Stanford University. The Cardinal were undefeated at 6-0 entering the game and promptly showed the Vaqueros how they've won all their games so far, with a fast aggressive style of play. SBCC had played in the Santa Barbara Shootout the previous weekend with only ten players. Undaunted, the club recruited new additions from the SBCC student body and they traveled with 16 players eligible to suit up on this Northern California road trip. The six beginning lacrosse players received a rude welcome, of sorts, to lacrosse from Stanford but learned a lot playing for the first time. All 16 Vaqueros played in the game for SBCC.
Mari Cajandig (Davis, CA) led the Vaqueros with 6 goals and Megan McCullough (Novato, CA) scored 5 goals. Briki Cajandig (Davis, CA) had 17 saves facing 41 shots. SBCC concludes the weekend road trip with a game at UC Santa Cruz. The Banana Slugs and the Vaqueros faced each other in the WWLL Division Two championship game last season. UC Santa Cruz won that game 11-9 for their first championship but with so many new faces it's a rematch only of team names. SBCC returns only four players who played in that title game last year. UC Santa Cruz is 2-2 entering the 11:00am Saturday game.
Copyright 2023 - Santa Barbara City College Lacrosse | Website by LaxTeams.net