SBCC Opens Up Season at Santa Barbara Shootout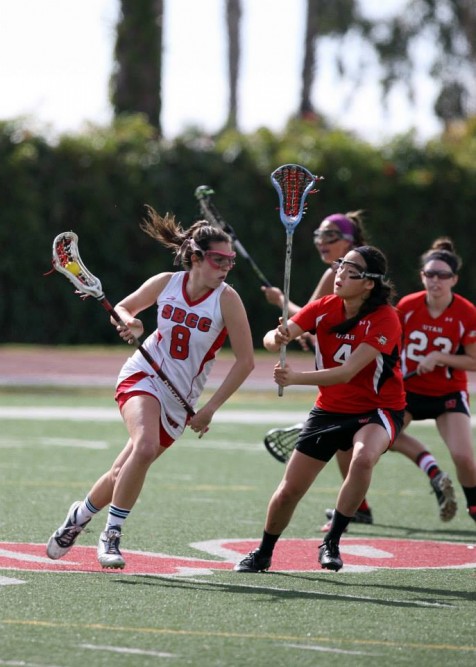 Santa Barbara, CA - The season started fast for the SBCC women's lacrosse club. The Vaqueros returned to school for classes on January 27th. A short two weeks later SBCC faced nationally ranked WCLA DII competition at the 26th Annual Santa Barbara Shootout. Playing short-handed after some unexpected roster attrition between the fall semester and the spring semester, the Vaqueros gutted out two Shootout games.
The best chance for a win came in the first game with St. Benedict's but SBCC fell short in a close 10-8 score despite only having 10 players suited up for the contest. St. Benedict's put all 12 positions on the field and that much, at least, helpled them prevail. Sophomore Megan McCullough (Novato, CA) led SBCC with 4 goals and 1 assist. Sophomore Mari Cajandig (Davis, CA) scored 2 goals and had an assist while redshirt sophomore Marissa Hill (Huntington Beach, CA) scored 2 goals. Goal keeper Briki Cajandig (Davis, CA) had 16 saves.
The second game of the Shootout matched the Vaqueros with #1 University of Utah. SBCC played the Utes the closest of all teams in the Shootout but fell 20-10, again playing with only ten players on the field. Valiant efforts were turned in for the second day in a row by all Vaqueros present. Mari Cajandi led SBCC with 5 goals, Megan McCullough scored 4 and freshman Haley Moulton (Freeland, MI) scored her first college goal. Briki Cajandi had 18 saves.
Up next for SBCC is a road trip to play games at undefeated Stanford Club (6-0) and at UC Santa Cruz (2-2). Game time on Saturday at Stanford is 1:30pm and on Sunday at UC Santa Cruz it is 11:00am.

Copyright 2023 - Santa Barbara City College Lacrosse | Website by LaxTeams.net