SBCC First Play-Off Appearance Leads To Championship Game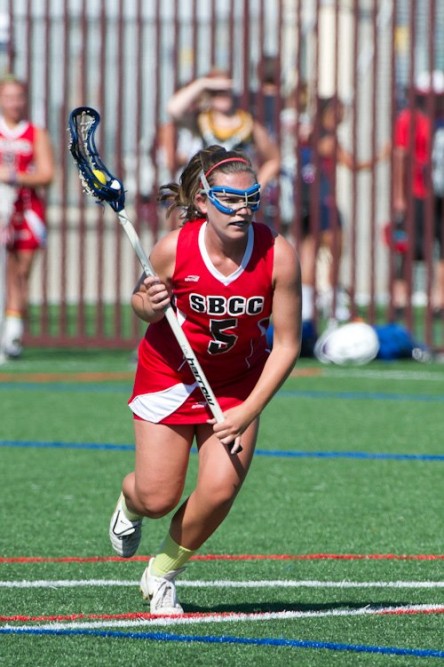 Santa Barbara, CA - For the first time in school history the Santa Barbara City College women's lacrosse club qualified for the Western Women's Lacrosse League play-offs. The Vaqueros finished the regular season with a record of 8 wins and 5 losses, winning the WWLL Division 2 South Conference with a 5-1 record in conference play. This outstanding regular season secured the #2 overall seed in the program's first post-season.
It has been a legitimate worst to first turnaround for the young SBCC program. The team was tied for last in WWLL South D2 in 2012 with a 1-5 record in conference and 2-7 overall. This year the team finished tied for first with a 5-1 record, 8-5 overall. Moreover, they finished tied with Fullerton, a team they had beaten 15-10, so the league tie-breaker put SBCC at the top. The only hiccup in South D2 play was a 9-8 loss to UNLV, at the Western States Tournament, a team Fullerton had beaten.

In the first round SBCC faced a very worthy University of Nevada, Reno club in the first meeting between the two programs. It proved to be a tough game for the Vaqueros. After a back and forth competition SBCC edged out the Wolf Pack 13-11 to advance to the WWLL Championship game against UC Santa Cruz. SBCC had faced Santa Cruz just two weeks before and had lost 11-7 in a game where they fell behind and couldn't catch up.
In the WWLL Championship game SBCC came out firing, scoring 4 early goals to take the lead. Then in the second half Santa Cruz clawed their way back to take the lead and showed why they won the WWLL North D2 Conference in the regular season. During a dramatic final five minutes the Banana Slugs were able to take advantage of a pressing SBCC team trying to break their stall and a one goal lead became a two goal lead for the final 11-9 score.
Even with the loss SBCC's performance was the best of the Vaqueros young lacrosse program. The outstanding effort the SBCC players put forth was noticed. UC Santa Cruz turned down their automatic qualifier spot in the WCLA National Championship Tournament and the WWLL offered it to SBCC. The Vaqueros accepted and will play for the WCLA D2 National Championship. SBCC was given the 8th seed and faces the club from James Madison University at the El Pomar Sports Complex in Colorado Springs on May 9th.

Lacrosse Magazine On-Line Article
It was a season of firsts for SBCC and the biggest first is the one that keeps them playing a few more weeks, going to the national championship post-season.

Copyright 2023 - Santa Barbara City College Lacrosse | Website by LaxTeams.net