Attackmen Lead Pitt to Victory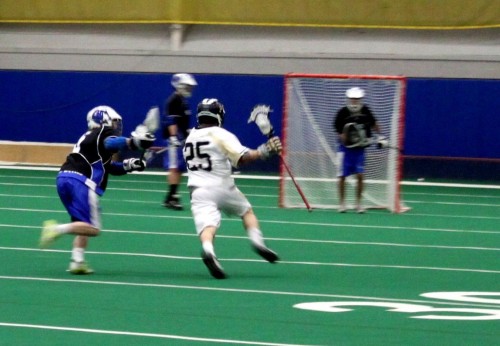 Pittsburgh, PA – The Panthers rolled to a 27-4 victory over the Blue Devils of Central Connecticut State on Sunday night. Pitt scored early, with Colin Peck putting the first goal into the cage just 17 seconds into the first quarter, and often, tallying 20 goals in the first half.
It was a banner day for Pitt's attackmen. The starting trio of graduate student Chris Roy, sophomore Chris Wetzel, and freshman Matt Higgins combined for a staggering 26 points in the game, split evenly between 13 goals and 13 assists. Roy had a career day, as he tied Pitt's single-game scoring record, held by offensive assistant coach and former Pitt stud attackman Joe Grmusa, with 10 points. Higgins, a freshman from Newark, Delaware, recorded his second 9 point performance in just four career games with four goals and five assists.
The day was capped off with junior Dan "Buddy" Lomauro dodging to his right and blasting a shot past the keeper, scoring his first career goal for the Panthers.
The Panthers, who have won three straight games, travel to Blacksburg, Virginia this weekend to take on Georgia and Virginia Tech. Pitt will face Georgia at 8 pm on Friday and finish off the weekend against the Hokies on Saturday at 2 pm.
Hail to Pitt!
Copyright 2020 - University of Pittsburgh Men's Lacrosse | Website by LaxTeams.net