Panthers Take Down Chippewas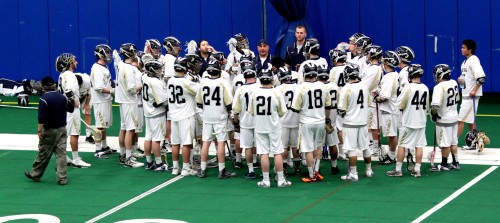 Pittsburgh, Pa - In their third game of the season, the Panthers rolled against Central Michigan, topping their conference foes 15-8.
After going 1-1 during their opening weekend, Pitt took the field hoping to get a key conference win. Chris Roy opened the scoring just 40 seconds into the game with the first of his three goals on the day. After the Panthers took a 2-0 lead on a Matt Higgins goald, Senior James Gentile scored the first goal for Central Michigan, dumping in a rebound to put the Chippewas on the board.
After a close first quarter, the Panthers blanked Central Michigan in the second while scoring eight goals, pushing the halftime score to 12-3. Goalie Travis O'Connor, who had 13 saves on the day, shined throughout the game, making one acrobatic save after another. "I was in the zone today," said O'Connor. "They had a lot of good looks, but I was seeing the ball and getting to almost everything." O'Connor was helped by a high pressure defense led by Senior Max Carlson, who tallied ten groundballs on the day.
After a brief push by the Chippewas in the third quarter, Pitt responded in the fourth with three goals of their own to protect their lead. Sophomore Goalie Chris Wimbrow closed out the game in goal for the Panthers, racking up three saves while allowing only two goals.
For a complete game recap, schedule, and statistics, check out the Panthers page at the MCLA website at mcla.us.
The Panthers will take the field at the Cost Center again on Sunday, March 16 when they take on Central Connecticut.
Hail to Pitt!
Copyright 2019 - University of Pittsburgh Men's Lacrosse | Website by LaxTeams.net