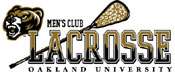 Wanna be a Sponsor?

VISIBILITY IS EVERYTHING!!!

YOUR AD HERE!!!!!

This weeks player Highlights ;

Get to know your Grizzlies!!!

Growing Pains!!! - Mar 10, 2014

Hey Grizz fans,

After another tough loss at home to the Lourdes University Grey Wolves. The Golden Grizzlies are hitting the practice field, film sessions and the wall even harder.

It's no secret that The Grizzlies are fielding a very young and inexperienced team, with a total of 16 players with only a total of two games of collegiate experience apeice. But that isn't stopping them from continuing to stay optomistic and work hard.

The Grizzlies understand that there is no time to lick their wounds because a 2 game road trip to Minnesota is knocking at the door for the weekend of the 13-16. This will be a good opportunity for the team to bond and try and put together it's first road performance.

Wish us Luck Grizz Fans!!

Coming Up in the World!!! - Mar 6, 2014

Hey Grizz Fans!!!

After a tough loss last week to the Aquinas Saints, The Grizzlies put in a hard week of prcatice and film study to get ready for our Friday night contest with the Lourdes Grey Wolves.

The Game starts at 9 p.m. on 3/7 at the Detroit Country Day field House.

Admission is free to all!!!

Next week the Grizzlie Lax men have a featured spot on the OU radio station starting at 8 p.m. until 9 p.m. More info to follow, be sure to tune in!!!

Have a good week fans!!!

Thanks for All the support!!!

Seeya at the Game!!!!

Check us out and give us a like on Facebook!
Copyright 2014 - Oakland University Men's Lacrosse | Website by LaxTeams.net