Support WKHS Alum & Asst. Coach To Play For Mexican National Lax Team
Worthington Kilbourne graduate Juan Contreras has a fulfilled a long-time goal of his and has been selected to play for the Mexican National Team in the 2018 World Games, played in Natanya Israel. Using the redirection link below, please consider helping Juan and his teammates reach their collective goal of participating in these games.
Juan is a 2009 graduate of WK, played on the '09 state championship team, and continued his lacrosse career at Otterbein University. He now dedicates much of his time giving back to the game of lacrosse; both as a member of our program and with Resolute Lacrosse. Juan is a great role model for all young people and we are proud to call him a Wolf.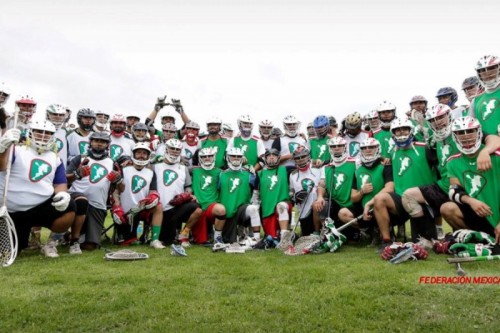 * Juan can be found in the above photo near the bottom right, sporting his Royal and White WK helmet.
Family and friends,
I come to you today asking for a huge favor. About 4 years ago I made a goal for myself: Make the Mexican National Lacrosse team and represent my heritage and Columbus lacrosse in the 2018 World Lacrosse Games. This past September, I was given the opportunity to tryout for the team and I was 1 of 23 players chosen to play in Natanya, Israel this summer.
This is by far one of my greatest accomplishments and I've been training for months to prepare for July. The reason I am reaching out today is because I need your help. Our team is raising funds so that we can make the trip out without breaking our wallets and having to take out large loans (but we will if we have to). The money would go towards a few things; the cost of travel to Israel including lodging, meals, and equipment/uniforms. Any information about the costs can be found on our gofund me page.
Why am I doing this? I started playing the game of lacrosse at the age of 12 and since then it's been nothing but a positive influence in my life. From the players that have become great friends to the coaches that have become great mentors, lacrosse has given me so much. In return, I want to help the game grow in anyway I can because I know how great of a platform it is for children and young adults. I have always been very proud and thankful to be born the US and to grow up here. I have also always been very proud of my roots as well, so to represent Mexico this summer will be an absolute honor.
How to donate? One of my teammates (Will Gormley) that lives in NY created a GoFindme page to help raise the funds and I'm trying to keep the momentum going. The link to our page is
https://www.gofundme.com/ mexico-national-lacrosse-team
.
I understand that money can be tight so please do not feel obligated. Any support would be a blessing. Looking forward to representing Columbus this summer!
Thank you!
Juan Contreras
Copyright 2019 - Worthington Kilbourne High School Boys Lacrosse | Website by LaxTeams.net