History
---
Program Highlights
---
Big Goals Series (2016)
---
Program History Overview
Tech has fielded a men's Lacrosse team for the past forty five years and has played a varied schedule including games against Division I and III varsity teams such as; Duke, Georgetown, Kenyon, North Carolina, MIT, VMI and College Club teams. Lacrosse was founded as a varsity sport in 1924 by Dr. John Bascom Crenshaw, a former varsity Lacrosse player at Johns Hopkins. Dr. Crenshaw was Head of the Modern Language Department for 31 years and early member of the Athletic Board. He had extensive Lacrosse contacts dating to his days playing in the goal for the 1893 team. Dr. Crenshaw was intent on building a strong program. Tech competed for five seasons until the onset of the Great Depression in 1929. The early years was highlighted by a contest in Atlanta versus Syracuse in 1927 featuring many Syracuse All , Dr. Crenshaw had planned an aggressive schedule including, Virginia, Johns Hopkins, (the defending national champions), Maryland, Penn, Navy and the Mount Washington Lacrosse Club. Unfortunately the schedule was never played and the season was canceled. The Georgia Tech Archives contains all contracts and correspondence from this early period.
Restored as a Club Sport in 1971, with an initial game in Nashville against Vanderbilt University the sport grew on campus for the next decade. Throughout the late 1970's and early 1980's the team was the strongest Club team in the deep south. During this time the team won the Sun Coast Tournament in 1981 which was an annual spring gathering of over fifteen Division III teams, played a two game series with fellow Engineering school MIT; one loss and one victory, and played Duke on an annual home and home basis. Success was not as great in the mid 1980's and early 1990's.
Lacrosse is now resurgent on the Tech Campus. In 1997 the team won the Southeast Lacrosse Conference Tournament. In 1998 support has increased significantly with the addition of an expanded schedule, the use of outstanding new facilities, and a highly qualified coaching staff.
---
Born in 1861 in Nottaway County, Virginia Dr. Crenshaw received his undergraduate degree from Randolph Macon College in 1881. He was in the Graduate program at Johns Hopkins from 1885 to 1886 but returned to Randolph Macon to receive his masters in modern languages and to teach until 1890. An outstanding Gymnast he was responsible for the first Gymnasium ever built in the South which was constructed at Randolph Macon in 1886. In 1890 he was accepted into the Doctoral program at John Hopkins.
In 1888 Johns Hopkins formed its first Lacrosse team and in 1890 formed an Athletic Association to organize its intercollegiate sports program. Dr. Crenshaw, was asked to become the assistant to the Athletic Association president to provide gymnastic training to defray the costs of his graduate studies. 1n 1891, under Brant Rouszel, who served as captain and coach, Johns Hopkins revolutionized the game by combining both running and passing to advance the Ball. During this early time Dr. Crenshaw became involved with the sport. In 1893 he started in the goal for the varsity and is featured in the first ever photograph of a Johns Hopkins Lacrosse team seated in the top left corner.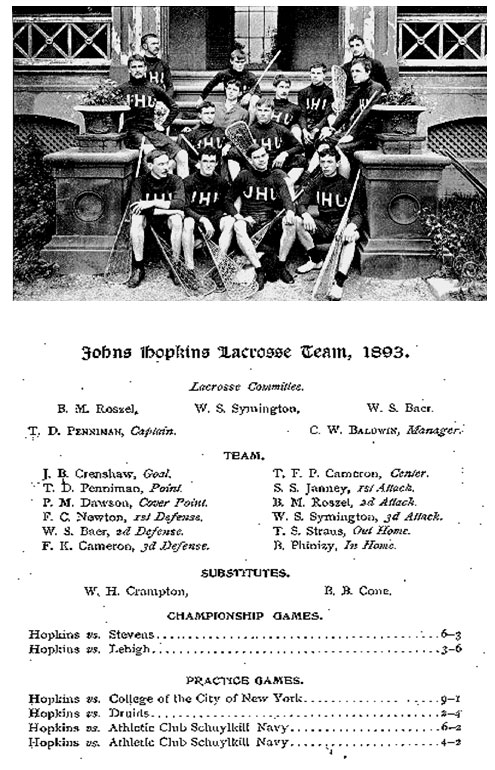 Dr. Crenshaw received his PhD in 1893 and continued on the faculty until 1902. He sought to pursue his career in both academic and Athletics and accepted a position as head of the Modern Language Department and faculty director of Athletics at Tech. In addition to establishing the Tech Lacrosse program Dr. Crenshaw was an original member of the United States Intercollegiate Lacrosse Association, (USILA), and the United States Intercollegiate Athletic Association, (modern day NCAA). Dr. Crenshaw took up tennis in his late 40's and continued to play until his mid seventies, he was so proficient that he won the Georgia Tech Faculty Tennis Tournament when he was seventy years old. He died in 1942 at the age of 81 after having the 1941 Blueprint dedicated to him for his contributions to the school. The Lacrosse team is honored to have such a distinguished and dedicated founder.
---
In 1924 Dr. John Bascom, "J.B." Crenshaw, a member of the Georgia Tech Athletic Board, formed a varsity Lacrosse program. He began the program slowly playing two games against the Army team at Fort Benning, both close losses. He gradually began building the team, forming a freshmen team, adding more games, utilizing local businessmen, with Lacrosse experience at Syracuse and Princeton, to assist in coaching and planning for national schedule. The University of Georgia founded a team and competition began with home and home games in Atlanta and Athens. In 1927 Tech hosted powerful Syracuse in a game at Grant Field featuring five Syracuse first and second Team All Americans, a game in which Tech was outmatched by a score of 11 to 2. Two varsity letters were awarded at the conclusion of the season to team captain N.H."Red" Riley and C. K. McDaniel.
Dr. Crenshaw was truly a Lacrosse pioneer, both playing on the first teams at Johns Hopkins, and with his plans for Georgia Tech's role in the future of the sport. For the 1928 and 1929 seasons Dr. Crenshaw had put together a powerful schedule with trips to the north to play Lacrosse powers; University of Virginia, University of Maryland, United States Naval Academy, Johns Hopkins, University of Pennsylvania, and the Mount Washington Lacrosse Club. The plans were in place, the contracts signed, but the schedule was never played. Lacrosse as a varsity sport at Tech was mysteriously dropped. Though the Georgia Tech Archives has detailed records of the growth of the sport and all correspondence, no record exists to explain why so such a vigorous growing program was canceled. The ensuing Great Depression and World War II precluded any near term revitalization.
1924
Two games were played in the inaugural season against the Fort Benning Club team. Both losses, one in Columbus, Georgia and a return match at Grant Field.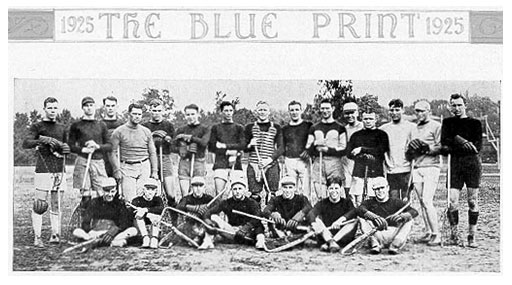 1925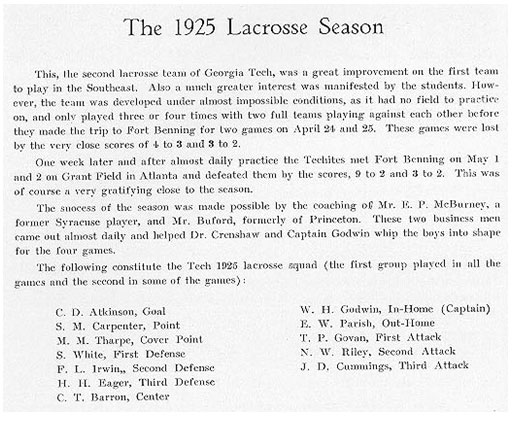 1926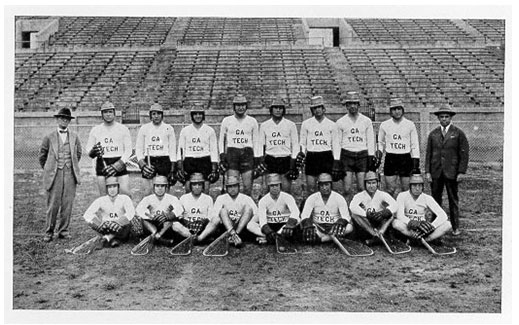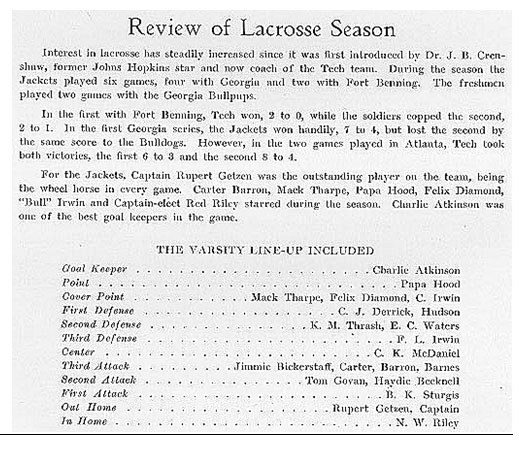 1927
The season started of aggressively hosting Syracuse University at Grant Field as indicated in the article below from the April 11, 1927 Syracuse Daily Orange.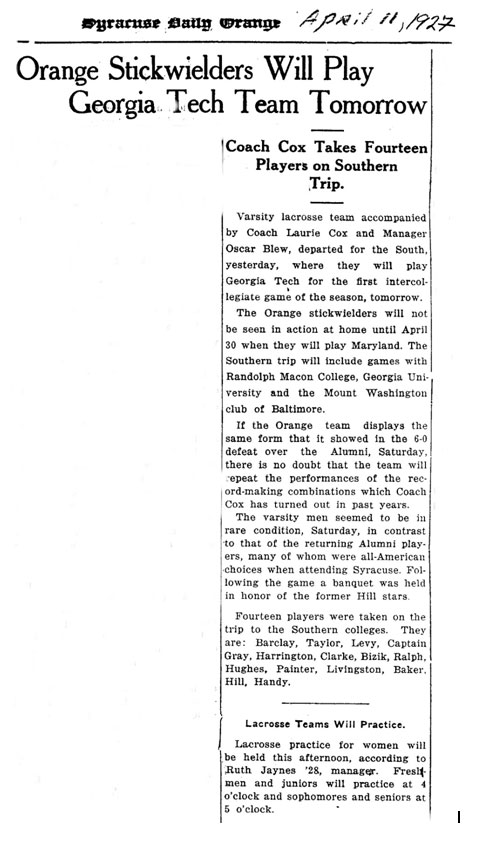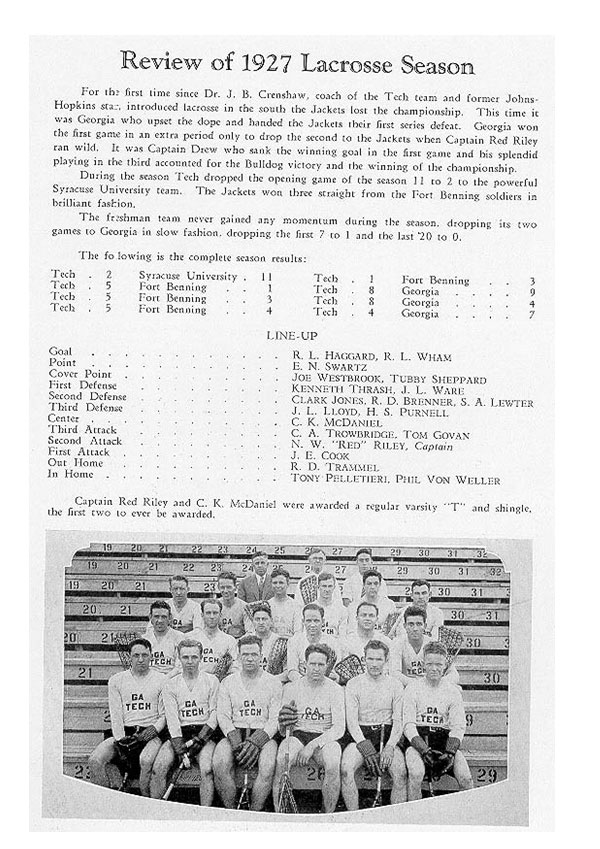 The season ended with two varsity letters awarded and with hope for competition on a national level the following year. The Team continued into the early 1930's with several Northern trips, Games against St John's of Annapolis, MD (an early Lacrosse Power), Maryland, Virginia, (where GT has an all time winning record), and Penn. Finally the financial crunch due to the depession years took its tool and Dr. JB Crenshaw's desire for a southern lacrosse power in Atlanta was halted.
Lacrosse Returns To Tech in 1971!
Lacrosse resumed again on campus in 1971 with a three game season starting with a 16-2 opening game loss at Vanderbilt and ending with a 5-3 victory against University of the South (Sewanee) on RoseBowl field.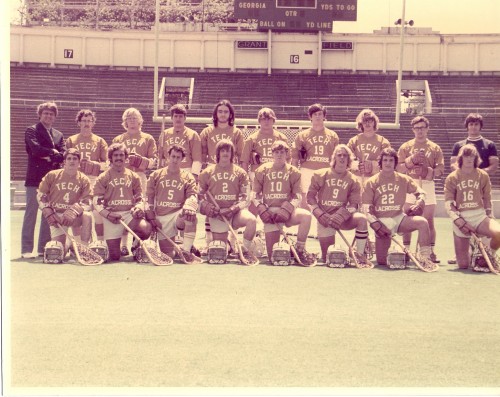 1972 Team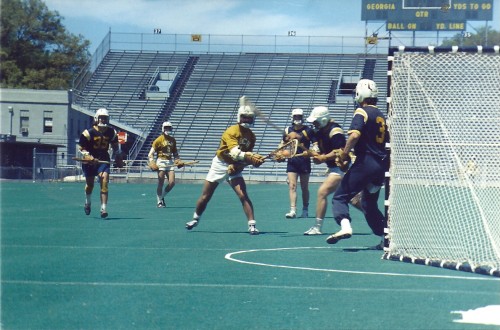 In 1972 Team posted a 4-2 record with Coach Kurt Knisely at the helm who began a building program, season highlight was a close fought return game with Vanderbilt at Bobby Dodd where the Jackest fell 9-7 but posted a significant improvement over year one. This is where the GT "team" culture began.
1973 Continued the growth with a larger roster and a more demanding 10 game schedule as GT began to establish leadership in the deep south as the sport started to expand on the college club level: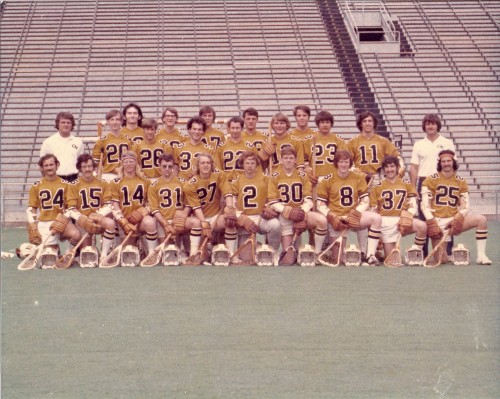 1973 Team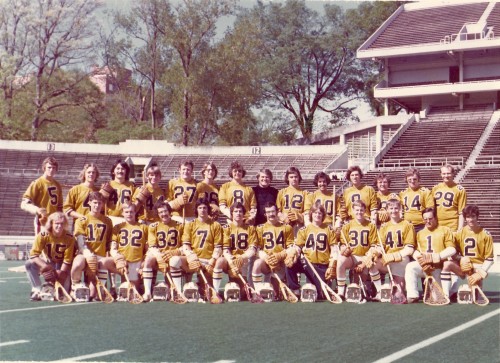 1974 Team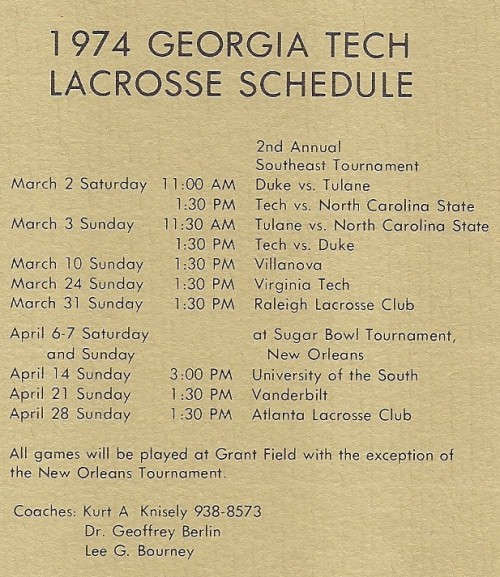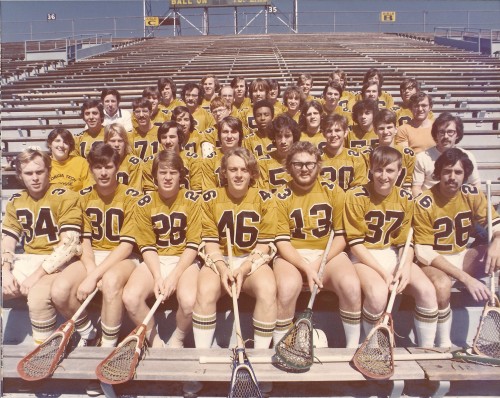 1975 Team
1976 SCHEDULE AND RESULTS- click
In 1975 Coach Kurt Knisely moved his family to a farm near a Athens, Georgia and retired as the first coach after making a significant effort to establish a "team first culture". Kurt ended up a year later forming the Lacrosse team at the University of Georgia where he coached for another 5 years before retiring again. Kurt Knisely is a member of the Georgia Tech Lacrosse Hall of Fame for his pioneering efforts.
The Late 1970's and 80's:
In 1978 an influx of players committed to play strong lacrosse and create a team rather than "club" led to an expansionin quality and need to play better competition: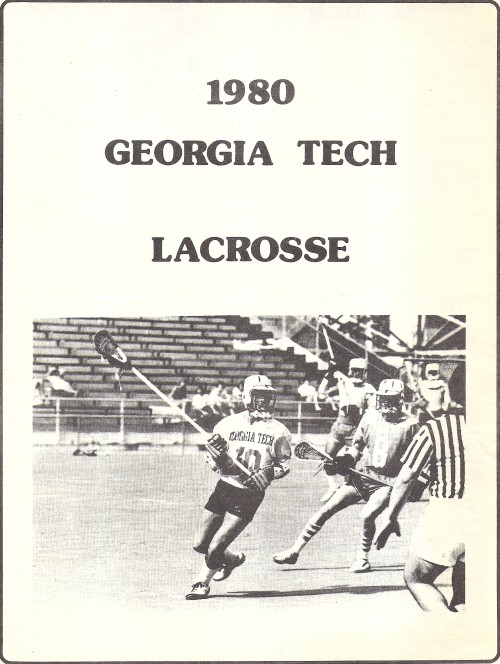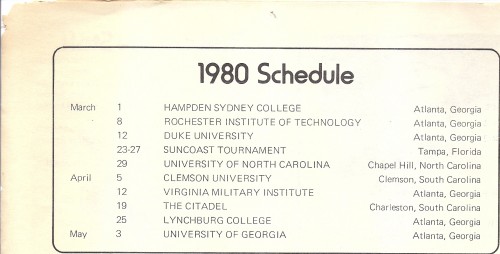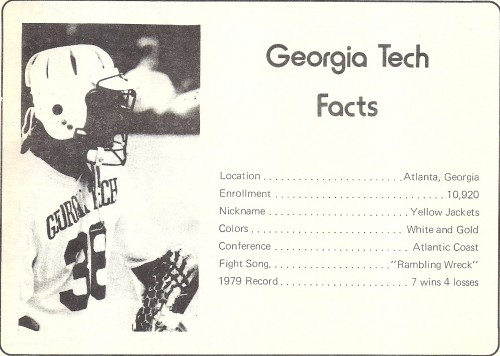 Date

Day

Opponent

Location

Scores

March

1

Sat

Clemson University

home

13

Fri

Guilford College

home

21

Sat

Kenyon College

home

23

Mon

Union College

Chapel Hill, NC

25

Wed

Georgetown University

Washington, DC

April

4

Sat

The Citadel

home

11

Sat

Virginia Military Institute

home

18

Sat

Davidson College

home

25

Sat

Duke University

Durham, NC

May

2

Sat

University of Georgia

Athens, GA
Georgia Tech at this time dominated all club teams was competiKve on the Division 3 level winning 90% of the contest and played one or two strong Division 1 teams every season.
Late 1980's saw the founding of the SELC which led to the creation of the US Lacrosse "Virtual Varsity" program in the mid 90's and the National MCLA which Georgia Tech has been founding members of. Strong commitment by many including Sonny Pieper guided the program through these changes which laid the foundation of greater organization and success. An SELC championship and Alumni outreach started to build foundational support around the program.
1997 and the Start of the Ken Lovic Era:
This past weekend the Georgia Tech Men's Lacrosse Team travelled to Auburn University to participate in the 10 team 1997 Southeastern Lacrosse Conference Tournament. The Yellow Jackets entered the tournament as the second seed after posting an impressive 7-1 regular season record versus conference foes such as Tennessee, Georgia, Auburn, Emory, Georgia Southern, South Carolina, Vanderbilt, The Citadel, and Alabama.
After receiving a first round bye, Tech faced Tennessee in the quarterfinals Saturday afternoon. The offense led the way in the second half and the defense only allowed one goal in the same half, as the Jackets rolled 14-3. The team was led by midfielders Pete Hoag, Kofi Wakhiski, Brian O'Hara, and Bob Landers, as well as attackmen Ed Bernier, Mike Terenski and Jimmy Boylan.
In the semifinals that same night, Tech faced Vanderbilt, the third seed. Tech again used its stingy defense and non-stop offense and won easily 7-2. A strong performance was turned in by sophomore goalie Channing Lewis and defensemen Robert Villareal, Shane Stone, Mark Conlin, and Walter Doernte.
This win Saturday night set up the top seeded Auburn Tigers and the two seed Jackets for a showdown Sunday in the conference finals. Tech held to a slim 4-3 halftime lead, with three of Georgia Tech goals coming from the SELC Player of the Year, freshman midfielder Harold Park.
In the second half, the league's best defense (Georgia Tech) stopped the league's best offense (Auburn) and prevailed 7-6, giving Georgia Tech their first SELC Title. Also scoring in the game was senior Bob Landers.
The team was guided all year by first-year head coach Ken Lovic and three veteran captains in Bernier, Villareal, and O'Hara. Also playing key minutes for the Jackets were Carsten Heiliger, Brian Freeman, Mike Saltenberger, Greg Kolb, and Brandon Buchberg.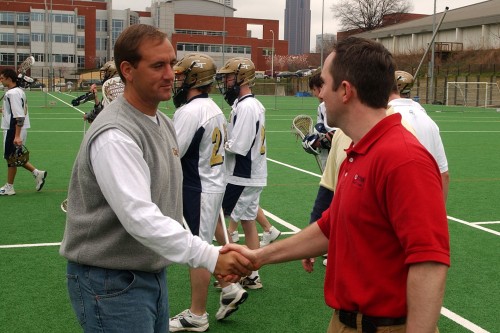 Ken along with some fantastic assistant coaches, Rob Lyng, Dan Umbel etc has produced memorable wins, winning seasons, Post season honors for players and two SELC Titles in 1997 and 2004: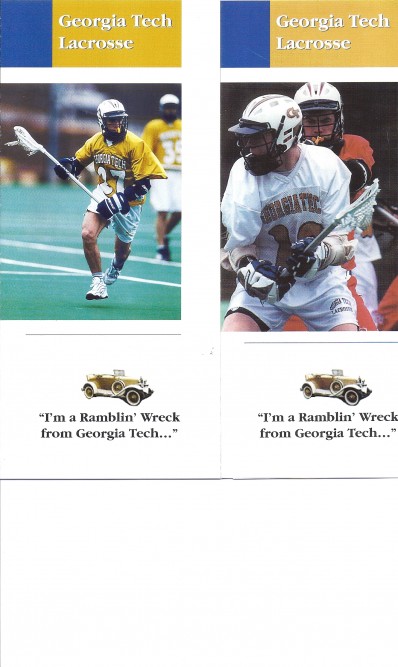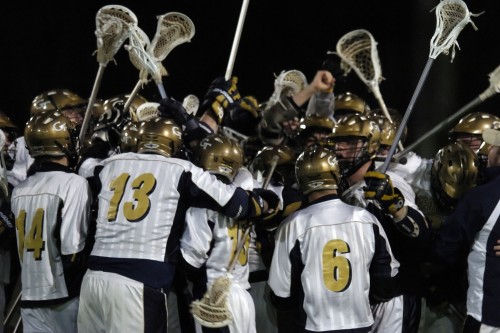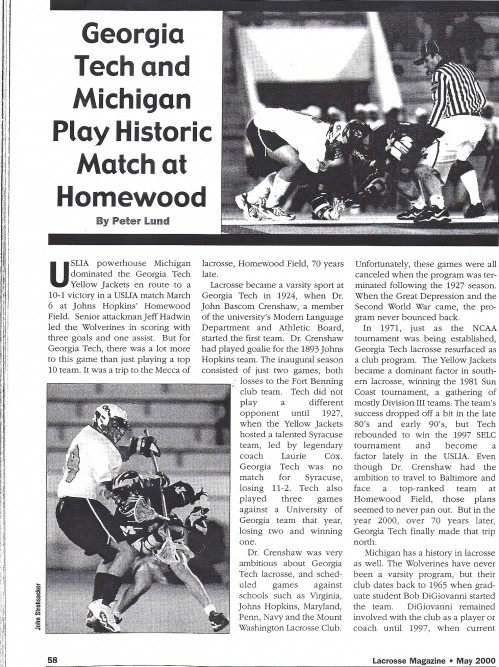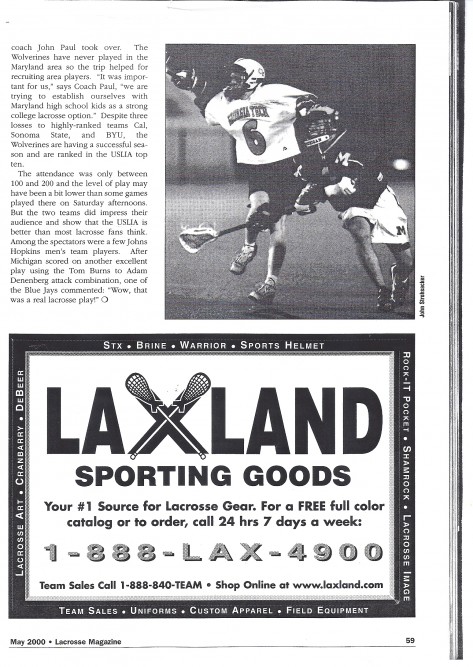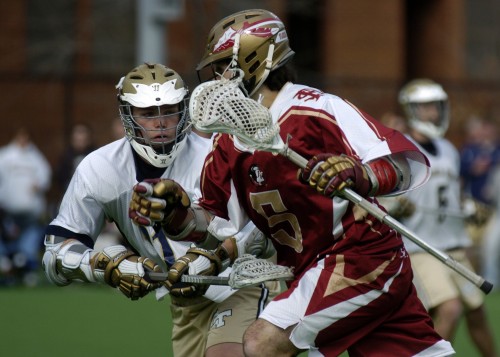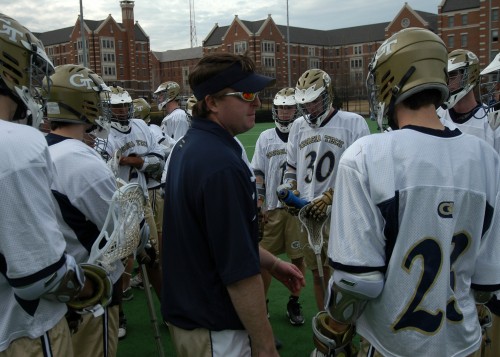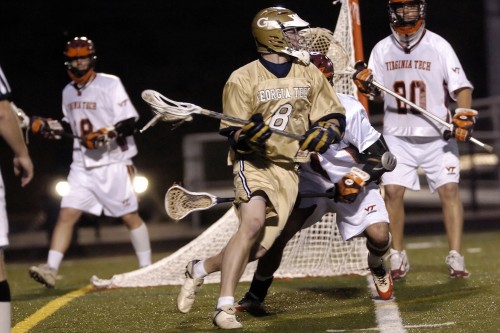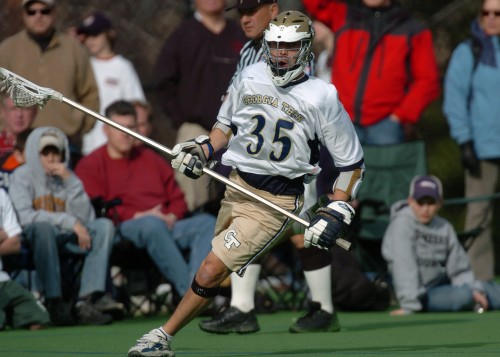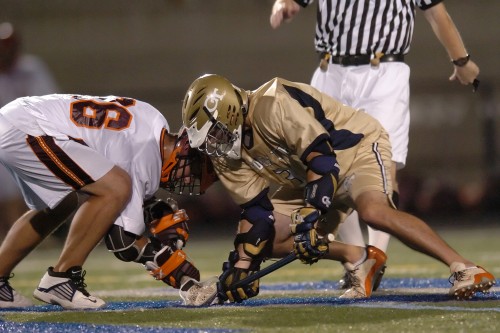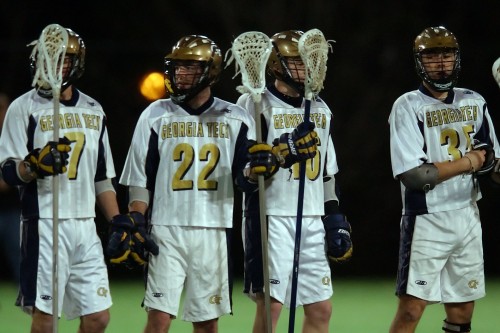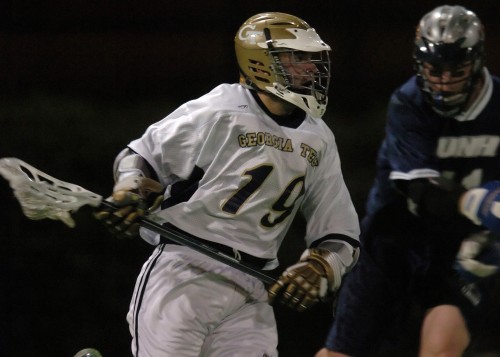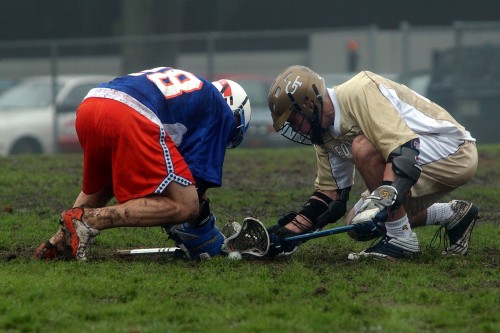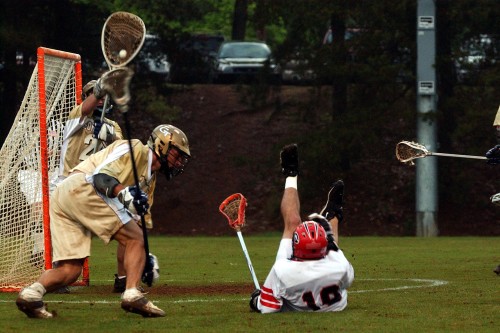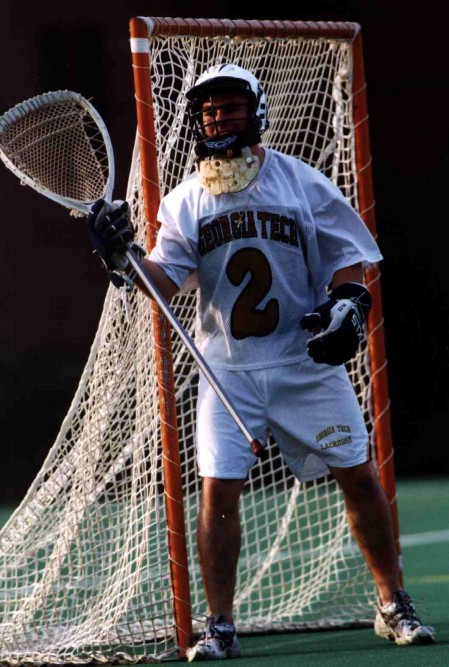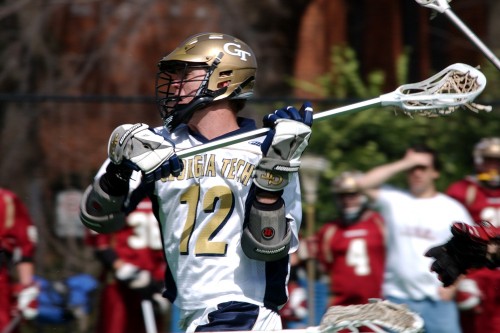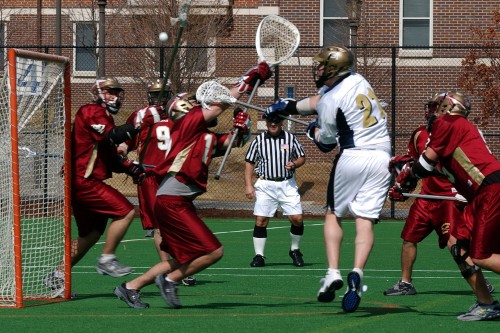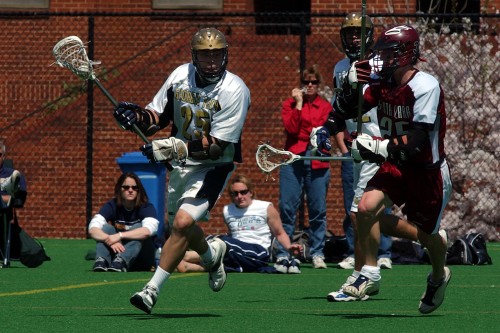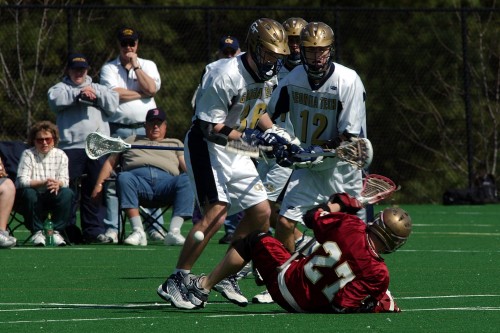 Copyright 2017 - Georgia Tech Men's Lacrosse | Website by LaxTeams.net