Tech Outlasts Colorado State in OT!
On less than 20 hours rest the Jackets faced historically powerful 10th ranked Colorado State and would not be denied. Coming off a poor 4th quarter the night before where the 5th ranked Colorado Buffalo's broke open a 4th quarter tie to end Tech's 38 game regular season win streak this, night would be different in dramatic fashion!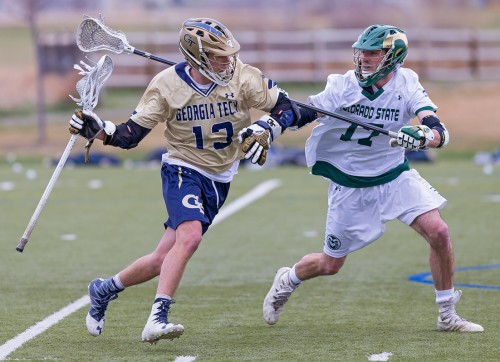 The Rams broke through with 3:30 remaining in the 4th quarter to take an 11-10 lead. There was no quit in the exhausted Jackets, Brian Connolly scored a minute later for the tie to force overtime. Tech controlled the ball in overtime firing shot after shot until Timmy Peterson scored the game winner towards the end of the first overtime!
Copyright 2017 - Georgia Tech Men's Lacrosse | Website by LaxTeams.net