#1 Ramblin Wreck Rolls Spartans
The Jackets raced out to a quick lead Vs 14th ranked Michigan State and never looked back in a 15-8 win improving to 5-0 on the season. Tech was voted as the #1 team in the recent Under Armour Coaches Poll for the first time in program history and the first time an SELC team has been voted #1 in MCLA history. The Jackets did not waste any time in showing they deserve the top spot as Timmy Peterson scored 6 seconds into the game to give Tech a lead they would never relinquish.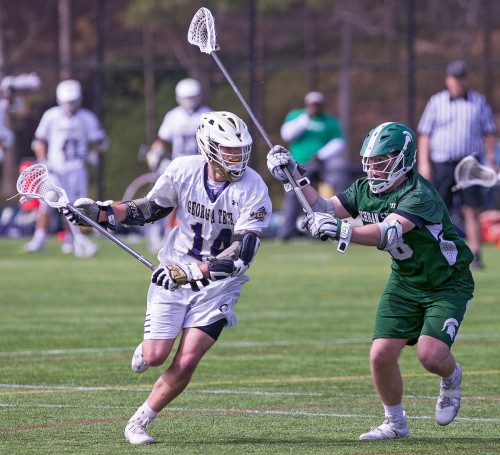 The Spartans however showed early they were not to be intimidated, scoring on a 12 yard scorcher past Freshman Goalie Dennis LiCalzi who had 14 saves on the day. Tech seized back control quickly as Gabe Banks, Brian Connolly and Peterson would score the next three to take a 4-1 lead. The Spartans then answered to close it to 4-2 before senior All American Holland Frost would race past the State defense with two seconds on the clock and put one between the pipes to raise the Jacket advantage to 5-2.
Tech continued to dominate in the second quarter as they scored quick and often. After trading early goals the Wreck began to roll again with a three goal barrage highlighted by Will Clayton's first career goal and one each from Connolly and Peterson to give the Jackets a 9-3 lead. Spartan Freshman Star Bennett Osterink, with 5 goals on the day, then netted one before Jack Topping scored his first career goal to give the Yellow Jackets a 10-4 Half time lead.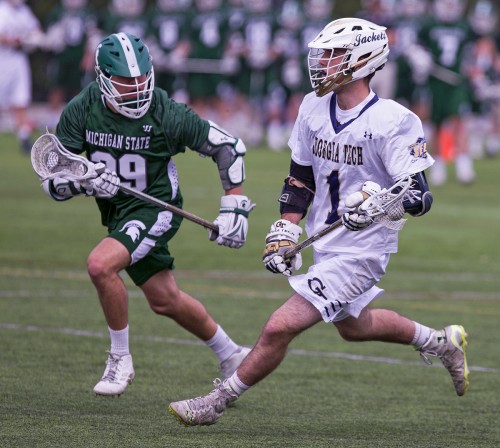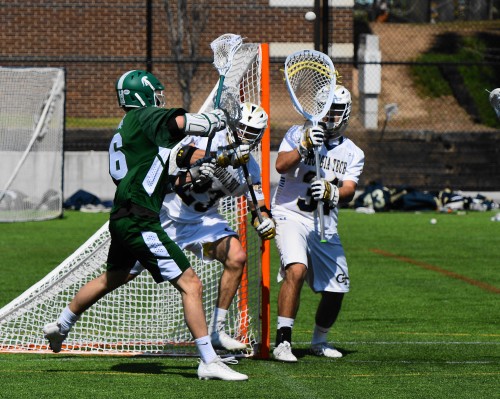 The second half started quickly as freshman attackman Griffin Goggans converted his first two touches to scores! With a 12-4 lead Georgia Tech began to build depth and the defense was tested by aggressive dodging from the Spartans as they tried to get back in the game to no avail. With 15 seconds left in the third Goggans added his third of the day to give the Jackets a seven goal margin going into the final stanza.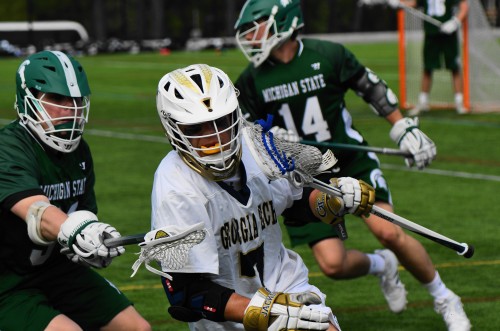 In the final quarter, the Jackets saw another first as Freshman Mason Heim would get his first career goal. As the final horn sounded Georgia Tech would run away winning by seven preserving their first ever #1 ranking.
Copyright 2017 - Georgia Tech Men's Lacrosse | Website by LaxTeams.net